Welcome to the Next Big Thing
Pro-Training with Borderline
Training is the Key as with any business
Borderline USA offers complete training classes, hands-on or online, for not only the beginning curber but for the experienced operator who wants advanced techniques as well.
Proper training gives you the confidence and the homeowner the piece of mind in knowing that their product will be installed correctly.  Don't practice on someones yard….. 
Click the Links Here to See Our Upcoming Events!!
PRO-TRAINING WITH BORDERLINE
Troy Harp & The Curbing Edge Kill it at Our  Recent Event in Tennessee!!
PRO-TRAINING WITH BORDERLINE
Pete Van Rooy and Artistic Curbing Rocked Arizona!!
Join Our Network!
Curbers Teaching Curbers...
DO YOU NEED "HANDS ON" TRAINING?
YOU CAN COME TO US AND GET TRAINED ON YOUR SCHEDULE!!
GET REAL WORLD CURBING EXPERIENCE WITH OUR CREW AT
VALLEY BORDERS!
YOU SELECT DATES THAT WORK FOR YOU!!!
CONTACT US TO GET STARTED!!!
Wilson & Sons
We had an absolute blast at our Borderline training.  We won't forget what the Valley Borders crew did for our business.  When they say "real world" training they mean it.  
Thank you Borderline!!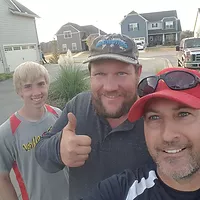 Concept Coatings
Lonnie and Chance traveled all the way to Tennessee to help us get our curbing business started.  We can't thank them enough for what they did, lifelong friends…. That Chance is the hardest working young man we've ever seen, amazing…..
Tighe Brothers Curbing
The two days we spent in Bismarck transformed our curbing business. We are so happy we made the trip. Lonnie and his crew were fantastic!!
Job Shadowing
Are you someone who is looking at getting into the business or someone who has equipment but needs help in how to set up and run it properly?
Borderline's job shadowing program is a first in the curbing industry.    With our network of curbers we can put you in contact with a professional crew and see how they go about their day.  You will be able to observe the responsibilities of each member from set up to clean up. 
If there is time you may be able to see how to properly do estimates and invoice customers.  This is not a "training", as you won't physically be mixing or running machines as there are liability issues involved in that.   Training is a totally separate day as shadowing is designed for observation and advice.  If you haven't totally decided about buying equipment and are not sure, this program will be good for you.  This service has a fee of $300 per day,  which will be given to the company being shadowed to compensate them for their time. 
If after that day you decide curbing isn't for you then you are only out the $300 fee instead of finding out later after you have already bought equipment.  If you do decide to pursue this business, Borderline will match the $300 fee originally spent with your mentor and give you a $300 credit to use on Borderline products.  This is a "no risk" program designed to give you peace of mind that you are making the right choice.
Again only at Borderline…….
If you are wondering about curbing equipment, concrete curb machines, starting your own curbing business or want some more information about our equipment please fill out the form below.  Are you are an existing Curber and can't get any help from your manufacturer?  Please contact us, we are here for all of you.

Lonnie Shereck - (Owner and Curber)
(701) 751 - 2705