Curb Machine, Best Landscape Concrete Curb Machines for Sale,
Curbing Business Opportunity, Curb Training Program
    Build it and they will curb…
We Sell The Best Concrete Curbing Machines On The Market
Best curbing machines
Best Equipment, Proven Results
All new curbing machines have your company name and color scheme.
Every curbing manufacturer says their curb machine for sale is the best but never show real proof.  We see cute pictures with bulletpoints telling us so it must be true right?  They talk and talk but we never see the machines in action on real jobsites.  
Maybe it's because videos don't lie and obvious problems and shortcomings would be right there for you to view. 
We don't play games here at Borderline, everything is right out front because we have nothing to hide.
You come first, that's why all new Stings will have your company name and you get to choose your color scheme.  These things all come standard with your purchase and aren't some add on later.  
Do your research on all mfg's, you will find out who has your back…
Why Borderline USA for Curb Equipment,
Curbing Business Opportunities & Expert Curb Training
Experience Drives Innovation
40+ Years in Landscape Curbing Industry First to Introduce Curb Machines in America.
Owned And Operated By Someone Who Actually Uses Everything We Build And Is One Who Trains Those New To Business.
Every Person In Our Facility Has Been On A Curbing Crew At One Time Or Another, It Doesn't Matter If They Are A Welder Or Fabricator. We Want Them To Understand And Have Experience With Everything Curbing.
All The Advancements, Improvements, And Modifications To Our Machines, Tools, And Trainings Come Directly From Input By Our Curbing Guys.
If someone calls with questions about mixing, finishing, or running a machine you can bet that there's one here who can answer it, because they've done it. It's called having "Curb Cred" and our guys have it.
Can you believe there are 5 mfg's of curbing machines in the U.S. and 2 of them don't curb now or haven't curbed at all? When they have to bring in a local curbing company to host trainings shouldn't that tell you something?
When considering curb machines, concrete edging machines, curbing tools, curbing business opportunities, curbing trailers or curb training programs contact us today (701) 751-2705
"Do as I say, but not as I do…"   
Experience Drives Innovation
Every Curb Machine is Built in House!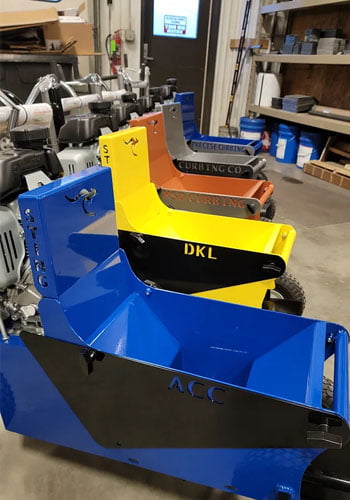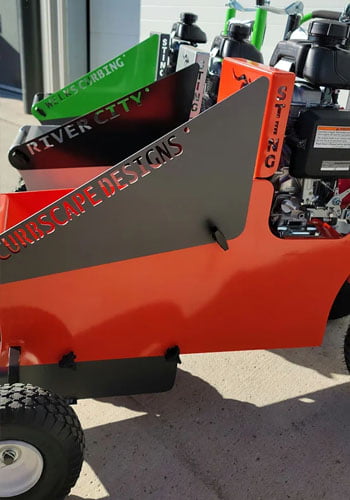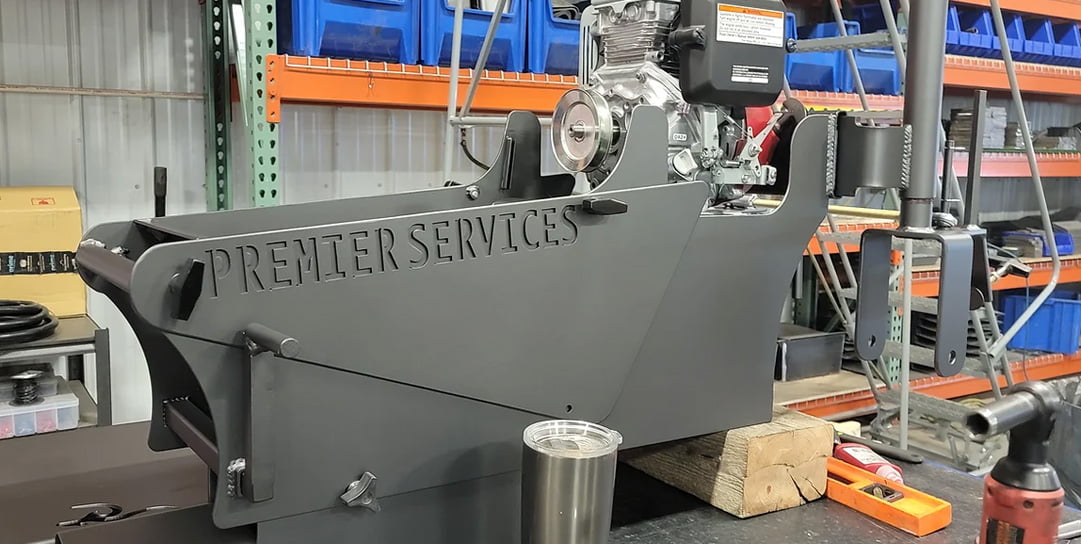 Piledriver XL
Concrete Curb Mixing Machine
Bigger..Faster..Stronger

You want to move concrete from the mixer to the curb machine as quickly and easily as possible. Through years of research, desgin, and testing we've come up with a machine that is bigger and more badass!! The Piledriver XL has a 8cf custom tub, 1/8 inch steel (removable) handles, and an upgraded Honda GX 50 with 30% more horsepower.
The XL has a 500lb carrying capacity and can easily driven by the young and old.  It's fully steerable and forward weighted for effortless dumping.  There's no other power wheelbarrow out there like it!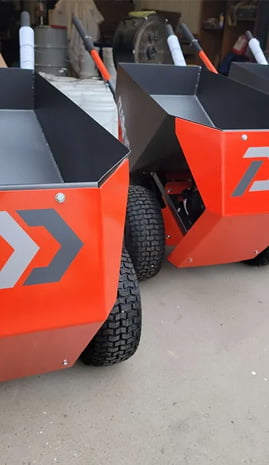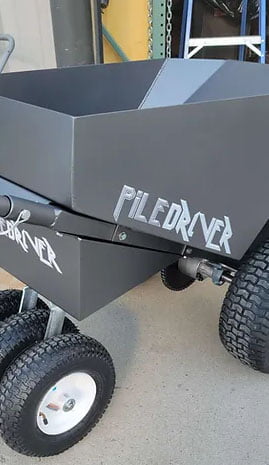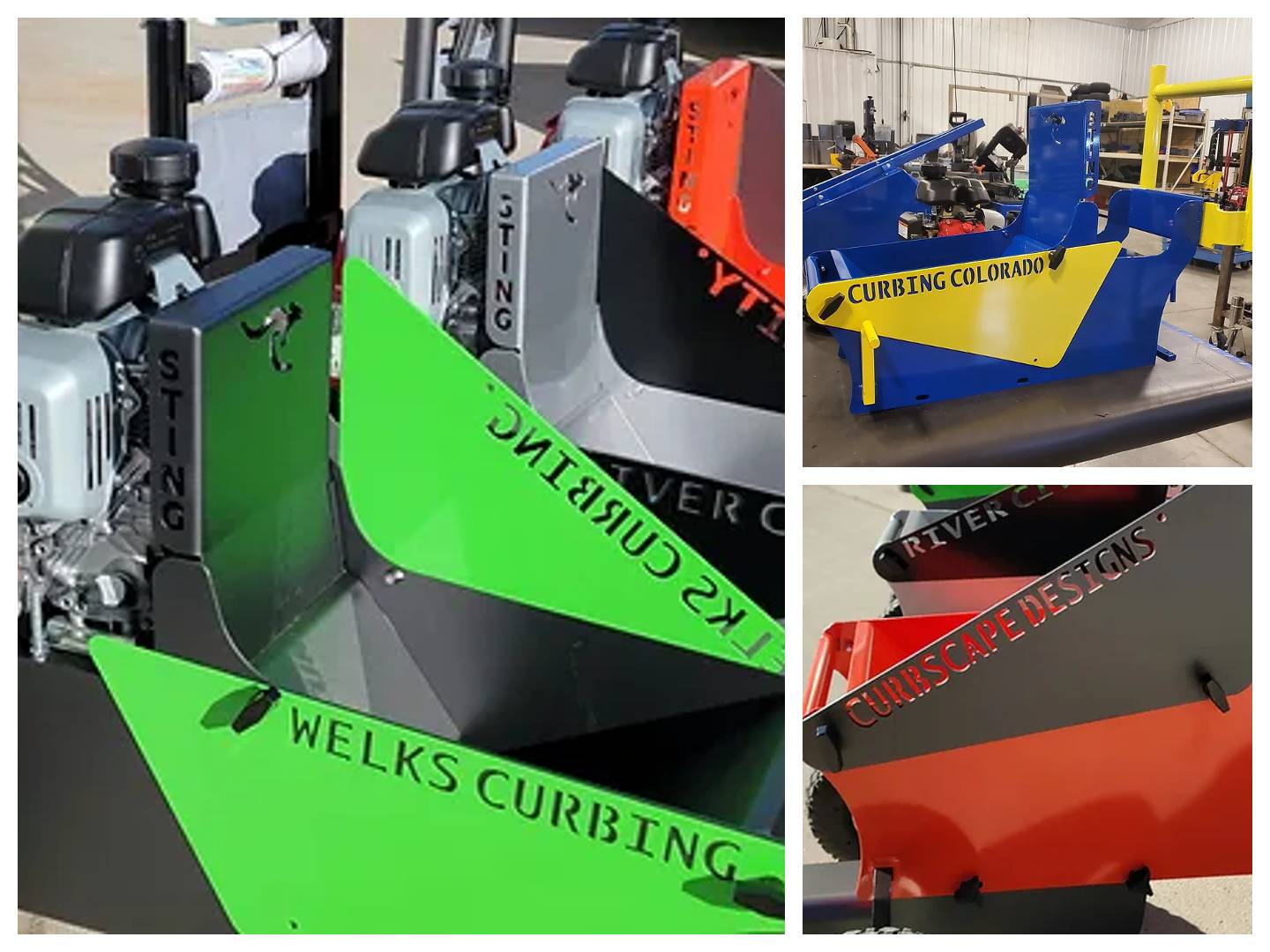 The "Sting"
Concrete Curb Machine
Custom, Quick, Powerful
The Sting is a powerful landscape curbing machine has been the staple of the landscape curbing world since it's inception nearly 20 years ago. Recent additions and improvements have catapulted it to the top of the industry.
As others still refuse to address issues and sell machines with obvious problems, Borderline continues to innovate and reinvent itself. Our "in house" fab shop not only gives us the ability to make changes on the fly, but also customize your machine.
Have Questions on Concrete Curbing Equipment or Interested in Starting a Curbing Business?
You've come to the right place.
Borderline has the most extensive training and support in the industry.  You have many training options including online or hands-on, support from hundreds of curbers in many groups, along with 12 trainers across the United States and Canada.
Over 150 videos for anyone to view who may need help regardless of machine they have.
Whether you buy from us or not you know where to go for help.  It's what we do, were curbers, we are Valley Borders Custom Curbing.
​
Curb Equipment, Curb Machines and Curb Training Done Right
So we are very happy with our curbing machine purchase. we just to Have a Harpten curving machine then after 6 moths it stop performing it was taking off concrete on the very top edge of the curve couldn't figure out the problem called the manufacturer and they would never answer, came across borderline and Lonnie was very helpful and honest and stands behind his machines. this machine is 💯 better. don't waist your money elsewhere buy this machines and you won't regret it best decision we made.
Our experience with borderline was outstanding, learn alot more about curbing, and meet some great people. Lonnie is a man of his word and is a true leader and Curber. We didn't just learn from them in the class but also have a lifelong support system.
Lonnie has been such a mentor getting our business started. He set up is with equipment and provided training. He always answers my calls when I have a question. The equipment is built to last. We didn't secure our trailer door recently and the Sting took a 30 MPH tumble on the roadway. Other than a bent crank and demolish trowel, the Sting still works perfect. If your looking for a well built machine and a man who stands behind his product, call Lonnie. I will never use anything but Borderline USA equipment.
Curb University - Start Your Own Curbing Business with the Best Curbing Equipment and Training from Curbing Experts
Unlike other trainings, we put as much curb on the ground that you need. This group laid down 1800 ft (140) mixes in 2 days. you will not find another hands-on event like this, and it's not even close. Several of these people don't even run our machines, we don't care, we train curbers…
When you go to another curb manufacturer, they train you WHEN you buy their machines. At borderline we train you regardless no matter if you purchase. We've had dozens who have bought from others and trained with us because they were taught nothing. Imagine flying across the country and only running the machine once or twice? not mixing one time? or have your trainer leave several times and your left to fend for yourself.
Imagine flying across the country to get trained and only running the curb machine one time, not getting to actually mix, or have your trainer actually leave you to fend for yourself. These are all stories that have been told to us.
Visit Curb University
its all here for you to see, no smoke n mirrors.
#curbtheplanet
If you are wondering about curbing equipment, concrete curb machines, starting your own curbing business or want some more information about our equipment please fill out the form below.  Are you are an existing Curber and can't get any help from your manufacturer?  Please contact us, we are here for all of you.
Lonnie Shereck - (Owner and Curber)
(701) 751 - 2705