Piledriver Power Wheelbarrows
Why Push When you Can Piledrive…
Move Concrete from the Mixer as
Quickly and Easily as Possible
PILEDRIVER
Power Wheelbarrow
Piledriver was born out of necessity in the rugged country of western North Dakota. Hauling concrete in the hills of Bismarck for curbing crews can be a daunting task.
The worst and often the lowest paid job on the crew is the guy who "pushes". Making money in curbing hinges on getting work done, Piledriver makes this happen.
Why push when you can Piledrive…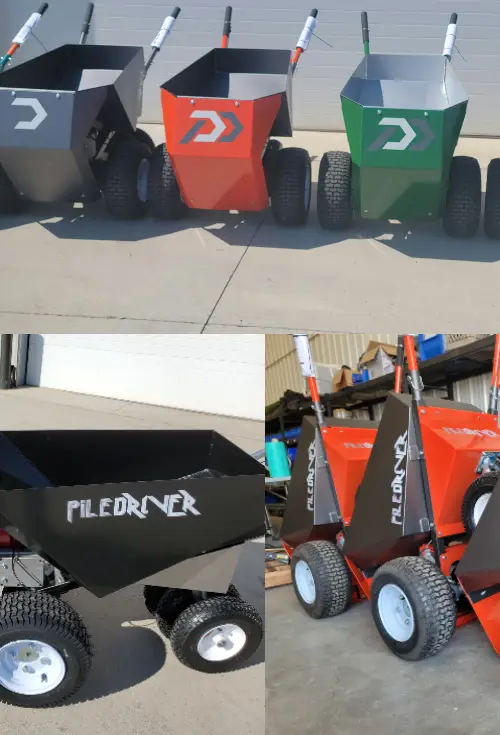 Why Use Borderline USA? – Rated 5 Star
Lonnie has been such a mentor getting our business started. He set up is with equipment and provided training. He always answers my calls when I have a question. The equipment is built to last.
We didn't secure our trailer door recently and the Sting took a 30 MPH tumble on the roadway. Other than a bent crank and demolish trowel, the Sting still works perfect.
If your looking for a well built machine and a man who stands behind his product, call Lonnie. I will never use anything but Borderline USA equipment.
Hands down the best experience that one can get to become a new curbing Guru.. These guys have really helped us out.. but a special thanks to Lonnie as he has gone above and beyond for us!! This training event was well worth it and if your not hooked up with borderline then your missing out.
I am hoping there is be more training events throughout the year as we will continue to attend them. Watching their videos is amazing but nothing is better attending in person to get hands on training. Can't put a price on this kind of quality, exceptional and well planned training event. But lets not leave out the amazing Mango BEER!
Thanks guys for all that you have done and thanks to all the folks we met to network with as well…
I attended Borderline's training with Lonnie and his team to bring my curbing to next level. What a great experience!
These guys are the real deal. They went into great detail explaining curbing and answered all my questions while also showing the process hands on along the way.
I left with great confidence and I am excited to use my new found skills. I am completely satisfied with Borderline brand and the Valley Borders team, they definitely make you feel like family.
If you are wondering about curbing equipment, concrete curb machines, starting your own curbing business or want some more information about our equipment please fill out the form below.  Are you are an existing Curber and can't get any help from your manufacturer?  Please contact us, we are here for all of you.

Lonnie Shereck - (Owner and Curber)
(701) 751 - 2705