Frequently Asked Questions
Can you tell me more about borderline?
Borderline was started back in the early 1980's by Patrick Roach. Patrick came to the U.S. from Australia and brought the recently invented machine with him. This is the reason for the Kangaroo on our machines and logo.
Patrick ran the company for over 30 yrs and then it passed to his sons. Then in 2017 Lonnie Shereck, a curber from Bismarck,ND took over operations.
What you see here is the culmination of the work put in since then.
Do you offer financing?
Our financial partner is Western Equipment Finance. There are many variables that dictate what kind of payment or terms you may have. Obviously your credit history/score is the main factor. The amount your requesting, length of term, and downpayment are also variables. If you have good credit and work with a local bank I would try them first as your rates with normally be better. No matter who it is they will pull your credit and that may affect your score.
As someone who does curb everyday I can tell you that one job a month will make your payment on equipment. Curbing is very profitable so it doesn't take long to pay off.
Our financing link is a sub-page under packages at the top of the page in the menu.
What makes your curbing machine better than the others?
2 curbing machines where made in our history. The first was called the RE 500 and the 2nd called the PR Sting. The Re500 is no longer mfg and the PR Sting is the only machine we make now. The Sting is a plunger style machine that has a 50% longer stroke than all the other plunger machines made. This allows for more concrete to be extruded per stroke and reduces the (bridging) or plugging of the hopper. Several modifications and changes have been made the last 3 years to the Sting to make it better. Faster and more efficient than any others out there. We back this up with tons of videos showing it's performance. We have been waiting for others mfg's to do the same with their machines but have yet to see any proof that theirs will measure up.
Also as far as we know, our curb machine is the only one mfg that is Honda Certified. That means a rep from Honda tested it under stress to make sure the engine is sufficient for the work load and machine it's on. By being certified it takes the Honda warranty for the GX 100 from 1yr to a 3yr. Piece of mind that no other mfg can give you…
Can you explain your curbing trailers? How are they different?
Borderline curbing trailers were made the same for almost 3 decades. They had many great features but lacked certain things to make it easiy to use and functional. Those who run companies will tell you that storage and the ability to haul all your materials with you is paramount, this was impossible with the older trailers and most guys had to modify them to suite their needs. The first problem was the storage compartment was only 4 ft tall, it was an everyday occurance to hit your head taking machines out. The second was where the portland was supposed to be stored. It was very dfficult to get to and physically hard on the back to remove. Another problem was just the overall size of the storage compartment, there just wasnt enough room to haul everything you need and it is only specailized to use for one thing, curbing.
We decided to change the whole setup of the trailer. First all the trailers we build will be multiuse. Everything is built on top of an existing new flatbed trailer, no matter which trailer your order. The storage, sand bin, and mixer will be bolted to the frame and are removeable within an hour by 2 guys and a forklift. By bolting on and not welding you don't void the mfg warranty on trailer and you only pay registration, taxes, and fees in your state only on the cost of the trailer itself. This will save you approx $1500 when you take your title into DMV.
There are different size trailers we offer but the Extreme 20 is our biggest. The total deck length is 20 ft which is 4 ft longer than the original trailer. This give you a storage compartment that is 8 ft long and 6 1/2 ft tall. We weld shelves inside to store your materials along with a heavy shelf to the rear for portland. You have access to the sand bin through a rear door so the man mixing can grab bags without bending and straining his back. There is a 6ft drop ramp to wheel your machines in and out. The doors are lockable for security. The sand bin is 9 ft long and has aluminum sheeting on the floor to prevent rust which is a huge issue with wet sand. Your mixer is mounted on the rear with plenty of space to stand and test your mix, unlike the older trailers. You have choice of colors to match your machines with your logos if you like.
Everything we do here has a reason because we not only curb everyday ourselves but take advice and ideas from the professionals out there.
Do you actually do curbing or do you just build the equipment?
This is a question that shouldn't need to be asked because you would assume that an owner of a mfg company would also use the machines they build. I own and operate Valley Borders since 2002 and have been running the PR Sting for the duration. Every update and modification to our trailers and curb machine is the result of on the job testing. You can call our office and talk to anyone who works here and ask questions and they can answer them for you because each one of them has worked one time or another on our curbing crew. There are essentially 5 companies who mfg curb machines and 2 of them don't actually curb. If you ask a simple question and they have to refer you to a local curbing company for answers or if they bring in a local company to come in and train you maybe that should raise a red flag. Do as I say not as I do? You don't call us and talk to a salesman, you talk to a curber who is behind a machine and in the dirt everyday.
Are there any other places I can get help if i have questions?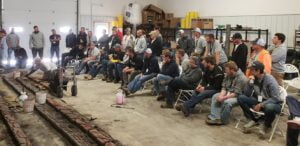 We have a private group on facebook called The Landscape Curbing Network. There are over 2100 people there to get help from. Do a search on facebook for the group, ask to join then answer all the questions. We also have a seperate Q&A page for owners to ask our trainers direct questions. We have a seperate website also called Curbuniversity.com that has videos and information to help with training. Realize you will never be left behind to fend for yourself with Borderline as you will with others.
What is involved in the Advanced Stone Training?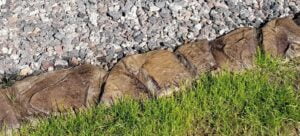 Our advanced training and info can be found at curbuniversity.com. We not only offer hands-on trainings for this but it also can be done through our online course. There are three different stamp packages you can choose from with your training. Red, White, and Blue so it depends on how many choices you would like to offer. Carved stone is the new craze and the amount you can charge for this custom curb far outweights your initial cost of the program. It's next level stuff.
Do you build all your machines and tools in your facility or have it outsourced?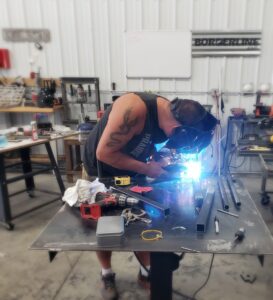 The PR Sting, Piledriver, Curbing Trailers, molds, trowels, tools, and all stamp rollers and mat kits are all made here under one roof.
The few things we outsource are water jet and laser cut materials. Certain bending of steel is also done offsite. Other than that all the fab, welding, assembly, and powder coating is done here. All the mold making, R&D, and pouring of all stamps (including carving kits) and rollers are made and put together here.
We don't order stamps from a company then resell to you, these are made for the curber not the flat work concrete guy. There are between 2-4 guys in the facility at all times and 4-6 guys on our curbing crew daily. Curbing is life around here and you won't find another mfg that is as dedicated.
What if i want training, do you have dates set up for that?"
During the summer months we offer training whenever you can make the trip to Bismarck to be with us. Our curbing crew goes out every single day and does 3-5 houses. You can train on the job in actual curbing situations with us and see how an experienced crew works. There is a flat rate of $250 per company per day, stay as many days as you like but typically 2 days is sufficient. You will learn everything you need to know about how to curb and become successful. (this doesnt include stone training). Situational curbing is the best way to learn, we can show you exactly how to run the machine on grades, how to finish up to the sidewalk, even what to explain and how to talk to customers or landscapers. You won't get this kind of training with any other mfg, actually 2 of them don't even curb and have to have a local curbing company do their training… wth
Training is weather permitting of course.
I'm thinking about ordering machines, do you normally have them in stock?"
All machines that we make are custom built for you. Typically we don't have stock machines sitting here as they get bought up pretty quick.
Your machine will come in the color you choose, if you want a color to match your logo then it'll be done as we powder coat in house. Your stamps are made to order too, can even change colors on those if you like. The trailers can be made the way you want, add an extra shelf or some personal touches then we do it. Normal build times vary throughout the season.
In late fall and early winter built times typically are 2-3 weeks. Late winter and early spring is definatley the busiest time of the year because most are getting ready for the season. We do get very busy at this time and build times can run 6-8 weeks depending how many trailers need to be built. We have expanded our facility (Feb '20) to handle this and also have hired more employees to keep up. Just be aware of build times and plan accordingly.
Also mfg is hard to predict as we are at the mercy of materials and parts getting to us in a timely manner.
Do you offer any brochures, phamplets, or info packets you can send me?"
We believe the amount of information contained on the borderlineusa website and also the curbuniversity website really show everything you need to know about us. The prices are clearly listed for items and machines and all the videos we post about them are more than enough to help you.
If you are like me I don't like receiving tons of junk mail when you can log in and look at your phone for info. We also have several group facebook pages you can join to ask questions and see what others are doing in the industry. The pictures and info we would put in a brochure would be the exact same as what's on the website.
If you are wondering about curbing equipment, concrete curb machines, starting your own curbing business or want some more information about our equipment please fill out the form below.  Are you are an existing Curber and can't get any help from your manufacturer?  Please contact us, we are here for all of you.
Lonnie Shereck - (Owner and Curber)
(701) 751 - 2705