Borderline Integral Colors by Cohill
1lb pre-measured bags or 25 lb bulk bags.
EACH # HAS TWO COLORS, CLICK TO SEE!!

Orders under 25lbs will have additional shipping added.


International customers please contact us before purchase for shipping quotes.
NOTE:  It is highly recommended that you do a sample test area before installation.  The color samples shown are approximate and represent as closely as possible the appearance of Cohill Color in integrally colored concrete.  The final color of the concrete may not match the colors shown here due to variables beyond our control including finishing techniques, job conditions, and curing methods.  The color differences in your sand and the ratio of sand to portland can alter the color of your curbing.
– Cohill iron oxide pigments are made with Bayferrox which meet or exceed ASTM C-979 designation for pigments for integrally colored concrete.  They are insoluble, light fast, alkali resistant and weather resistant.
– The colors demonstrated in this chart are approximate and obtained by adding a specific amount of pigment per 47lb bag of portland cement.  Variations from these colors are likely due to changes in mixing times, finishing techniques, color of cement and other raw materials such as sand, ect.
– Water curing or covering your curbing with plastic can lead to discoloration.
– The white powdery substance that may form on the surface of concrete products is known as efflorescence.  Chemical admixtures can be used to attempt to stop or reduce the formation of efflorescence.  Proper finishing, curing and sealing techniques may greatly reduce the tendency of this to occur.
– Non-chloride accelerators, such as Borderline's Excel, may be used with iron oxide pigments.  Do not use calcium chloride set accelerators which can cause blotching and discoloration.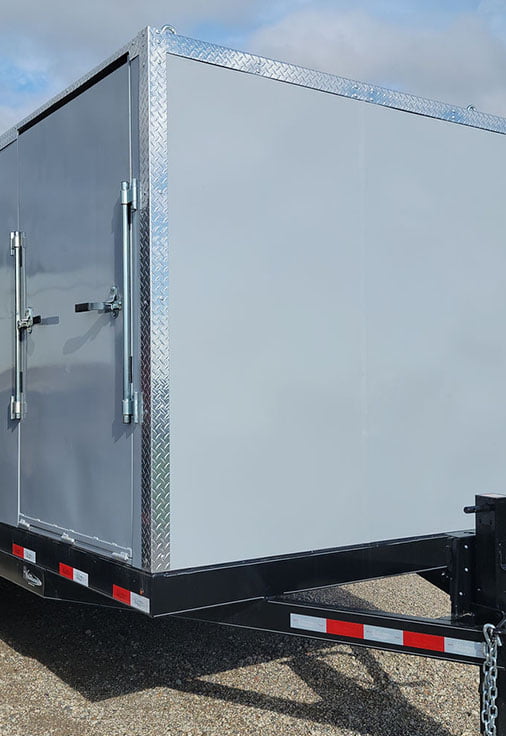 The "Cats Ass" of curbing trailers
The "20" in the name refers to the actual length of the deck, unlike other mfg's who include the tongue. 
This is misleading for the customer as the deck space is the most important aspect of the trailer.  Our storage compartment is 8ft long and 6'6 tall which gives you a tremendous amount of storage space.
The lockable drop ramp makes loading super easy and efficient.  Each sand bin is 9 ft long which leaves 3 ft for the mounting of the mixer (which is always included in the final price).   Storage and hauling capacity are paramount for ensuring you can get work done without having to refill as often.  It's almost like this trailer is designed by guys who actually curb every day.  lol
Shocker Air Ride – Trailer Side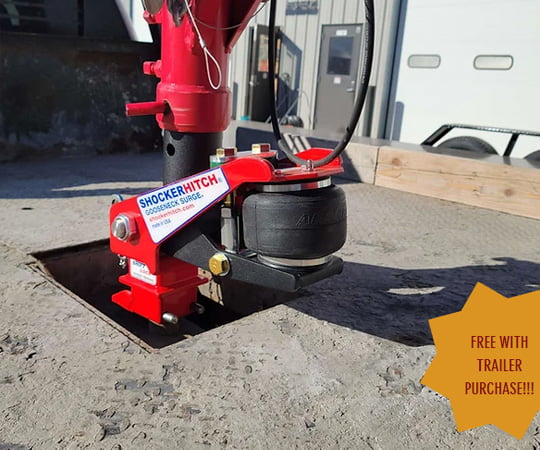 Curbing Trailer Testimonials
"The Biggest and most badass curbing trailer out there, and it's not even close."
"Borderline has actually made a curbing trailer for guys who curb, the rear portland shelf alone makes it better than anyone else's."
"It's the storage space and knowing your not gonna smash your head everytime that does it for me."
Updated to 8k Axles and Goose
Those who love pulling a gooseneck will love this trailer.  Our boys at Valley Borders pull these units everyday and love em! 
The 8k axles and 14ply tires give you the peace of mind to haul heavy.  If you want to haul 750ft of material you certainly can with this beast.  It's an impressive site to see these curbing trailers onsite.   
Our curbing trailers come stock with shelves built in with enough extra space to add your own to customize how you like.  Get your tools, buckets, and colors off the floor and out of the way.  Everything fits with a ton of room to spare.  
A curbing trailer that's set up for success!
If a MFG is selling you a 75K setup but the trailer they give you wont even fit half of what you got then what's the use having it?  
Makes zero sense…
Water Tank?
Enough room to even bring your own water with you! No more rolling hoses!
Space for Days!
Maximize your room so nothing is left behind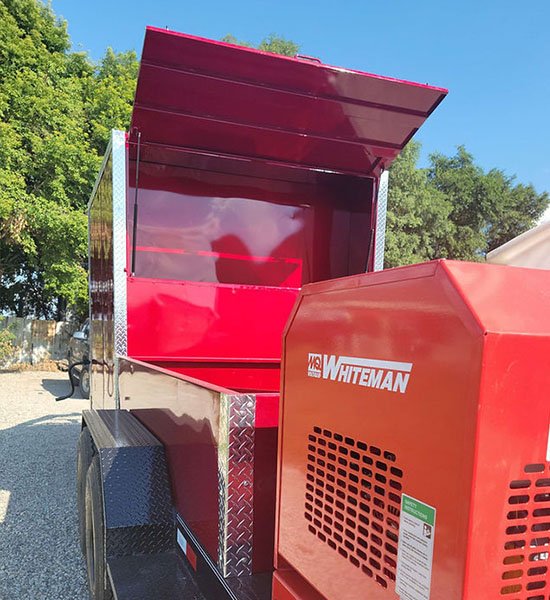 The only company that thinks
about the guy in the "hot box".
Borderline is the only company who has built a trailer with a dedicated place for your portland.  Our portland shelf can hold over 40 (47lb) bags that is within easy reach.  It doesn't make any sense to have to haul portland in the back of the truck then to have to stack on the fender, your moving it twice.  Think of how inefficient that is for the guy who really has the hardest job on the crew to begin with.  The sand is accessible but the portland isn't?  Hmmm.
We now also include a dedicated shelf for your color/chems within easy reach for the "man in the box" and even a mount for an umbrella!!  
Color Match your machines!!
Your equipment should represent your company. There's no extra charge for your colors!
Stack Em!
No one does it like Borderline.


Color/Chem Shelf
We've thought of everything to make your business successful.
Umbrella or shovels?
No one does it like Borderline.
The mounting of your mixer is
always included in the price.
Your mortar mixer is flush mounted to the trailer with enough space to stand alongside and check your mix.  Notice not only the area next to the drum but also the step below.  This will allow you to safely step down to the ground.  For decades trailers were made without this space which caused many sprained ankles and other injuries.  
The mortar mixer that is mounted will either be a Whiteman 9cf or Brave Pro, whichever is in stock or available.  (poly or steel).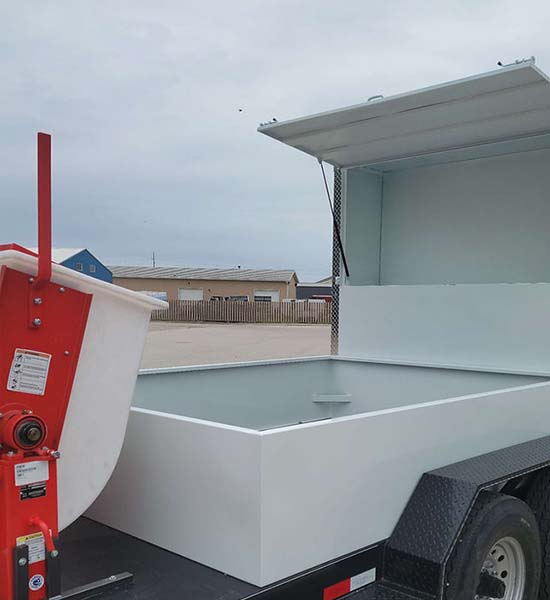 Whiteman 9cf
The staple of curbing mixers for decades.
Brave Pro
Another great mixer, (Steel or poly)
If you are wondering about curbing equipment, concrete curb machines, starting your own curbing business or want some more information about our equipment please fill out the form below.  Are you are an existing Curber and can't get any help from your manufacturer?  Please contact us, we are here for all of you.

Lonnie Shereck - (Owner and Curber)
(701) 751 - 2705